Katz Deli
Address: 616 Westheimer, Houston, TX 77006
Cost: Not cheap, but not outrageous.   Check for lunch specials.
Appropriate Age: Any age.
Our Review: Katz is a funky New York deli on Westheimer in Montrose.   There is plenty of parking. One lot is behind the building by the Police store front. The other is across Westheimer (and a little more tricky with kids, because you have to cross a busy street).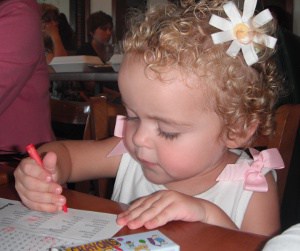 We visited Katz on a Sunday at 1:00.   It was busy but we were seated right away. We got to sit upstairs, which my kids thought was cool.   Katz has high chairs and coloring pages for the kids and they were happy while waiting for the food.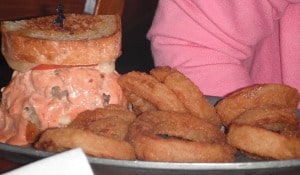 Every day until 4:00, Katz has a
lunch special
with a
half of a deli sandwich and choice of any side for $8.50
.  We ordered the
Deluxe Vegetarian Reuben
with garden salad and
Scottish Smoked Salmon Sandwich
with garden salad. The sandwiches required two hands and napkin and were very good.   Next time we'll order a different side because the garden salad comes with iceberg lettuce and not a lot else.
We met friends at the restaurant and they ordered the Deluxe Vegetarian Reuben with onion rings and the Philadelphia Cheese Steak with garden salad.   I tried the onion rings and they are great.  Free coleslaw and pickles are also available upon request.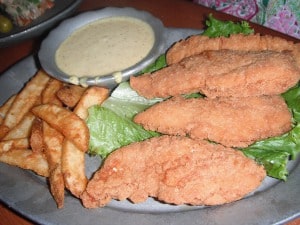 There are many kid's meal options. Our group ordered the chicken fingers ($4.59), spaghetti and meatballs ($4.59) and foot-long kosher hotdog ($4.99).   I was disappointed that drinks were extra ($1.99-2.99), but the kid's meals are huge.   Brooke's chicken finger meal could have fed an adult. The kids gave their meals their approval (and we took some extras home for dinner as well).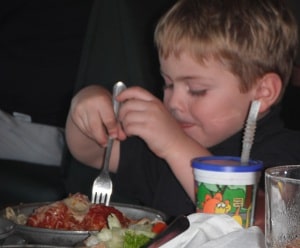 Service was very quick and our iced teas were kept full.  The best part is that I had purchased a BuyWithMe voucher several months ago for $40 at Katz for only $20.   (BuyWithMe is a  daily deal site like Groupon.)  Our total for 4 adults and 3 kids (plus one sleeper) was $48. After our BuyWithMe voucher, it was $8 plus tax and tip. If you included the cost of the voucher, 7 of use ate for $28 plus tax and tip.  (Note that with the daily deal vouchers, you still tip on the full amount of the check so the server gets there fair share.)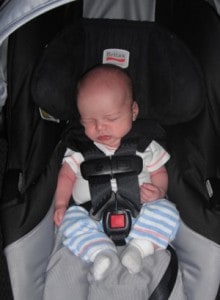 The deal with the BuyWithMe voucher was really good.  Even without the voucher, we'll go back to the restaurant. The kids were welcomed, the food was good and we all had a good time.   And, as always, James slept though the whole thing.