Berryhill Baja Grill
Address:   MULTIPLE.
Cost:   Reasonable.  Be sure to check out their specials.
Appropriate Age:   Any age.  Berryhill has a kid's menu and high chairs.
Our Review:   Berryhill Baja Grill is a local Houston chain with 12 locations. We visited the Galleria location most recently but have also been to the Montrose location.    Parking at both locations can be tight, but not impossible if you drive around.  We went at 1:00 on a Friday and the restaurant was very busy but there was no wait.
At Berryhill, you order at the counter and the food is brought to your table.  I think this is a good arrangement when you have kids with you because you don't have to wait for the check.  If suddenly your kids can't be good one minute longer, you can just pack it up and leave.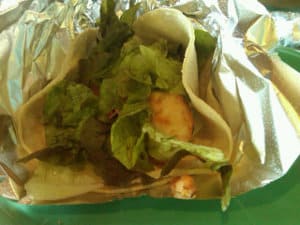 For 2 adults and 2 kids (plus one sleeper) we ordered 5 grilled fish tacos ($3.99 regularly but currently $1.99 all day on Fridays with the purchase of a drink), 1 iced tea ($2.19), 1 kid's meal with chicken fingers, french fries and a drink, and 1 large guacamole ($4.99). There is a free chip and salsa bar.  We had the Groupon I posted about HERE, so I only paid $1.58 at the restaurant.  The Groupon was $10, so the total was $11.58.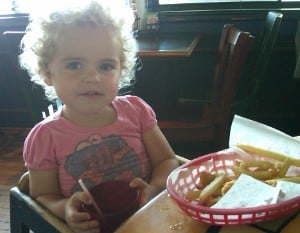 The food was delivered in 5 minutes was great. The big kids enjoyed themselves and James slept through the whole thing.