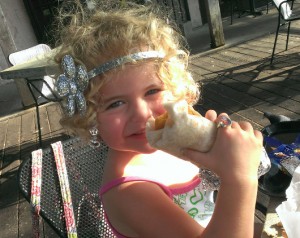 If you had to guess 1 place that the BigKidSmallCity crew might be during meal time, you should pick Mission Burrito. We love the food and the playground at the West Alabama location. So this week we're giving away another $20 Mission Burrito Giftcard!
To enter the BigKidSmallCity contest, you must:
1. Go to FACEBOOK and "Like" us.
2. Sign Up for the Free Weekend Events Newsletter. (On the right of the homepage.)
3. Take THIS 5 minute survey. (If you already took the survey, that counts!)
4. Leave a comment on THIS POST telling what you look for in a kids birthday party venue.  (You know we have birthday parties on the brain here at BKSC!)
On August 16, 2013 I will randomly select 1 winner using RANDOM.org. Good Luck!